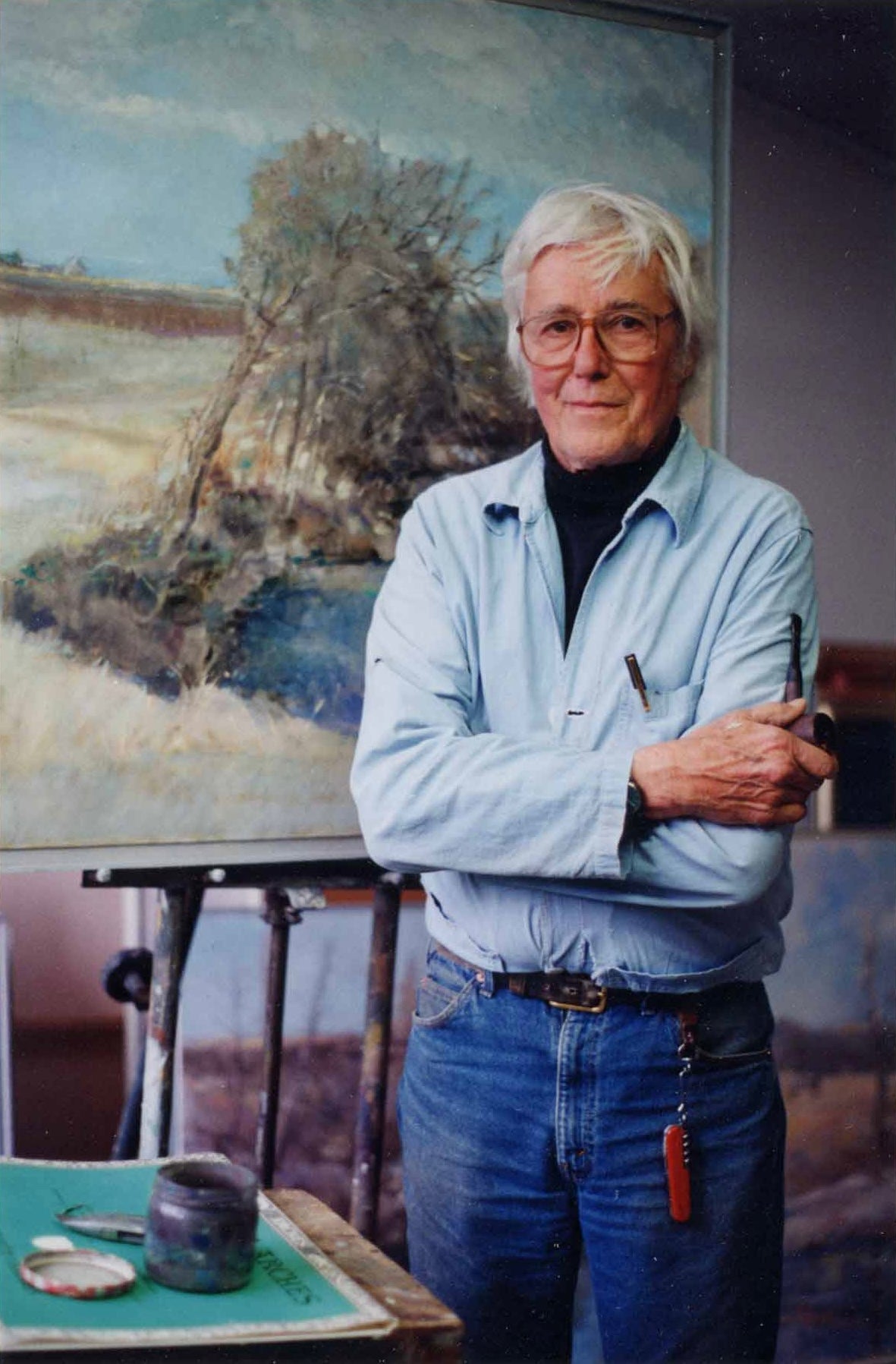 Robert Sudlow
Robert Sudlow was born on February 25, 1920, in the picturesque town of Holton, Kansas. His formative years were deeply intertwined with the vast prairies and the natural beauty that enveloped the heartland, sparking a lifelong fascination with the essence of life in the Midwest.
In 1942, Sudlow embarked on his artistic journey at The University of Kansas, where he studied under the tutelage of the esteemed Albert Bloch, who would become a significant mentor in his life. That same year, duty called, and he enlisted in the U.S. Navy. Trained as a pilot, he soared the skies, flying sea planes with distinction. His exceptional service led to the prestigious rank of Lieutenant Senior Grade and the honor of being awarded the Distinguished Flying Cross for his valor in the Western Pacific Theater during World War II. Remarkably, amidst the rigors of flight training, Sudlow managed to create a substantial body of watercolors, reflecting the diverse landscapes he encountered, from swamps to beaches and airfields.
After the war, Sudlow embarked on a transformative artistic journey that took him to the art academies of Paris. His insatiable curiosity led him to the California College of Arts and Crafts in 1956, where he studied under the guidance of the renowned California painter, Richard Diebenkorn. This period culminated in the attainment of his Master of Fine Arts degree.
In 1962, Sudlow was appointed associate professor of drawing and painting, marking the beginning of his influential tenure at the University of Kansas. He further expanded his artistic horizons through extensive travels, including sabbaticals in countries such as Greece, Belgium, Germany, Spain, England, and Ireland. In recognition of his exceptional contributions, the University of Kansas granted him full professorship in 1971. His illustrious teaching career continued until his retirement in 1987.
Sudlow's artistic journey was punctuated with accolades and recognition. In 1974, he made history by becoming the first artist to be named Kansas Governor's Artist. In 1997, he received the distinguished honor of being named Kansan of the Year by the Native Sons and Daughters of Kansas.
Robert Sudlow's artistry continues to resonate through countless exhibitions and prominent placements in public and private collections across the nation and beyond. His works have found a cherished home in esteemed institutions such as the Nelson-Atkins Museum of Art, Kansas City, Missouri, the Brooklyn Museum, Brooklyn, New York, and the Joslyn Museum of Art, Omaha, Nebraska, among many others.
Sudlow's paintings, spanning various mediums from oils on canvas and paper to watercolors and lithographs, remain a testament to his profound connection with landscapes, especially in Kansas. His works artfully capture the distinctive characteristics of Kansas landscapes, including the Osage Cuesta and Flint Hills, vividly preserving the essence of the region.
On March 25, 2010, Robert Sudlow peacefully passed away at his Lawrence home, leaving behind a lasting legacy that transcends the canvas. His artistry, passion for nature, and transformative vision continue to inspire and enrich the world of art. Through his enduring legacy, Sudlow invites us all to perceive the world with fresh eyes, finding beauty in the landscapes that surround us.
Paintings by Robert Sudlow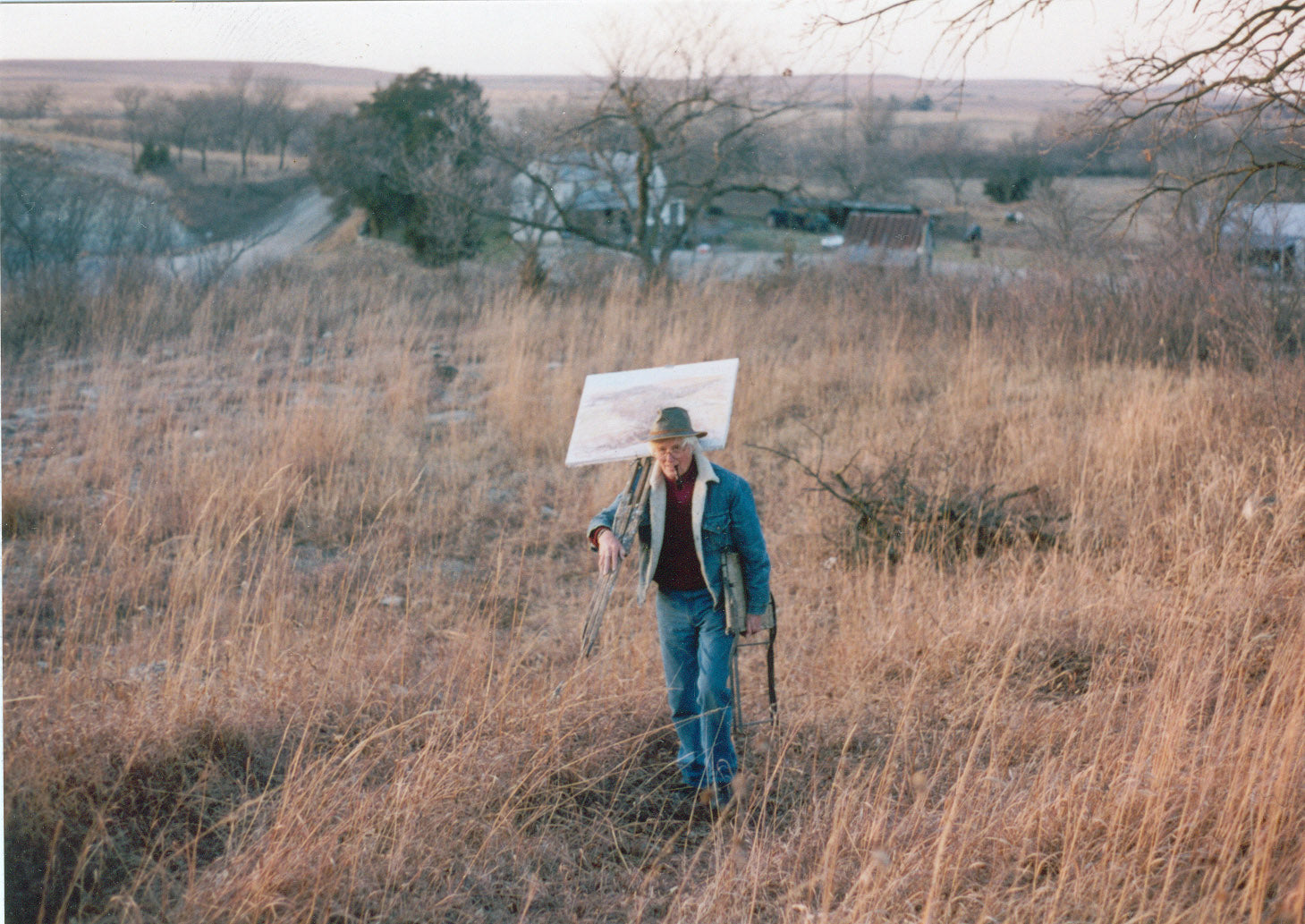 "Painting for me is a sort of communion. I paint in the midst of the landscape knowing that eyes are not enough. I wish for total immersion: touch, smell, sound, and the awareness of the swift flight of the sun. To paint is to participate, to extend one's senses, to work in sympathy with an utterly mysterious cosmos. My canvases are not productions: they are imperfect recordings of a series of happenings."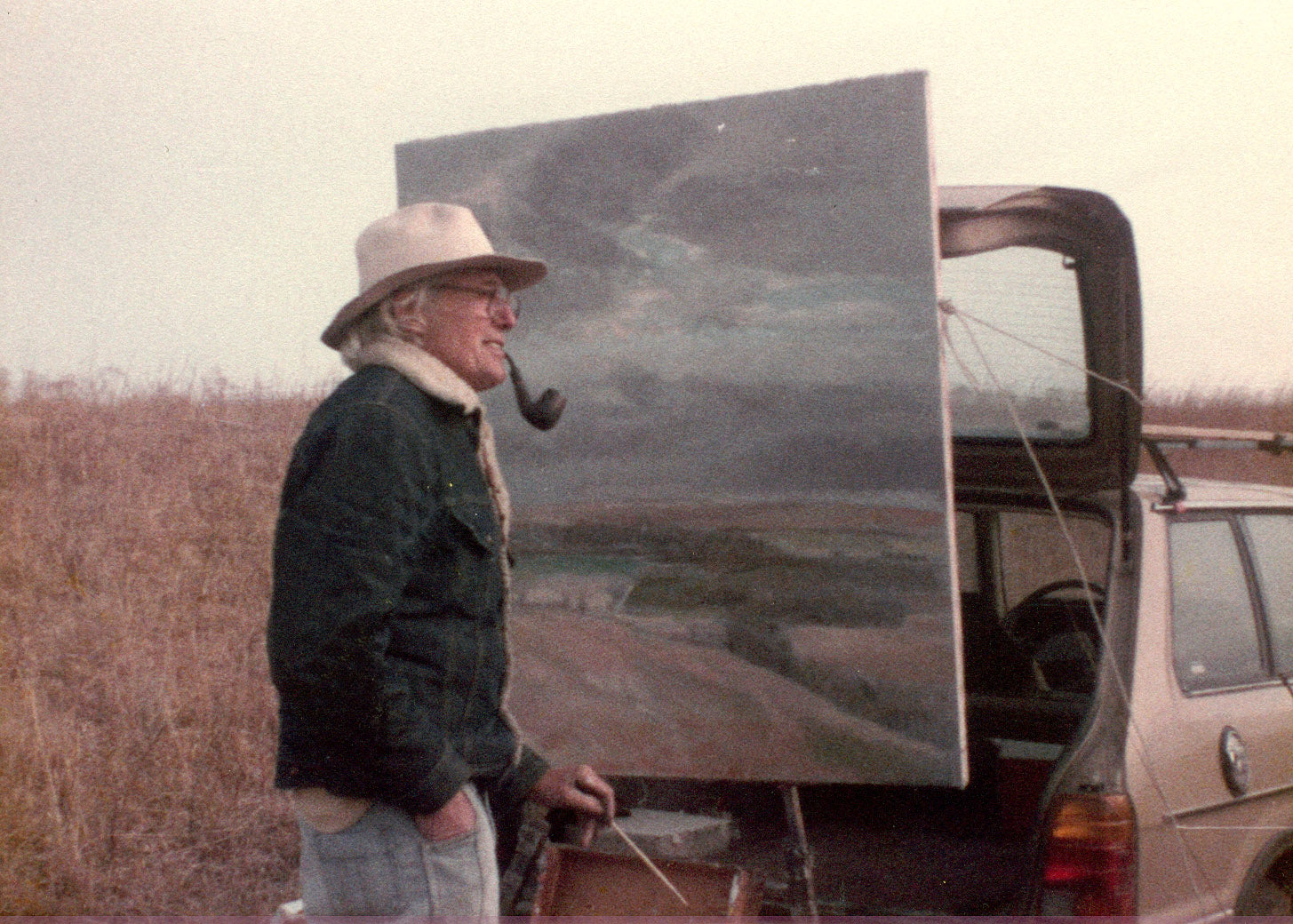 "The more I paint, the more I become convinced that the greatest mysteries lie in the common light of day - a weed patch, the mid-western landscape, the polluted but still-living earth. In the "art world," landscape painting is generally considered passe`. I remain oblivious to this world and paint such places that most strongly evoke my emotions. I am caught up in my subject and am convinced that nature is not distinct from man. In celebrating the landscape, I hope I can also celebrate man."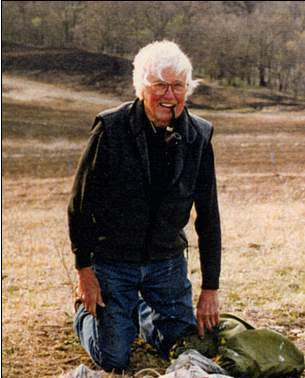 "My original intent was to be a biological illustrator. As a very poor student at The University of Kansas, I drew pickled reptiles to keep myself in school. Mercifully, I came under the influence of Albert Bloch. I took whatever traditions I could digest and forgot what didn't set well. This didn't always fit well with the art fashions and I had some difficulty both as a teacher and artist. I took the quest very seriously. All my readings, my love of natural world and music, I tried to turn into paint. In the beginning I was influenced by the styles of other European master painters. But, as time elapsed I found my own distinct style of painting that best connected me to nature and forces around me. Nature is a screen upon which I cast my dreams and has a sense of privacy. Even though Kansas was in my blood, I went to northern California in the summer months and to Europe every sabbatical I could manage. But, almost unknown to me, the visual metaphors of Kansas landscape grew stronger and its common places more haunting. It became a part of my Identity."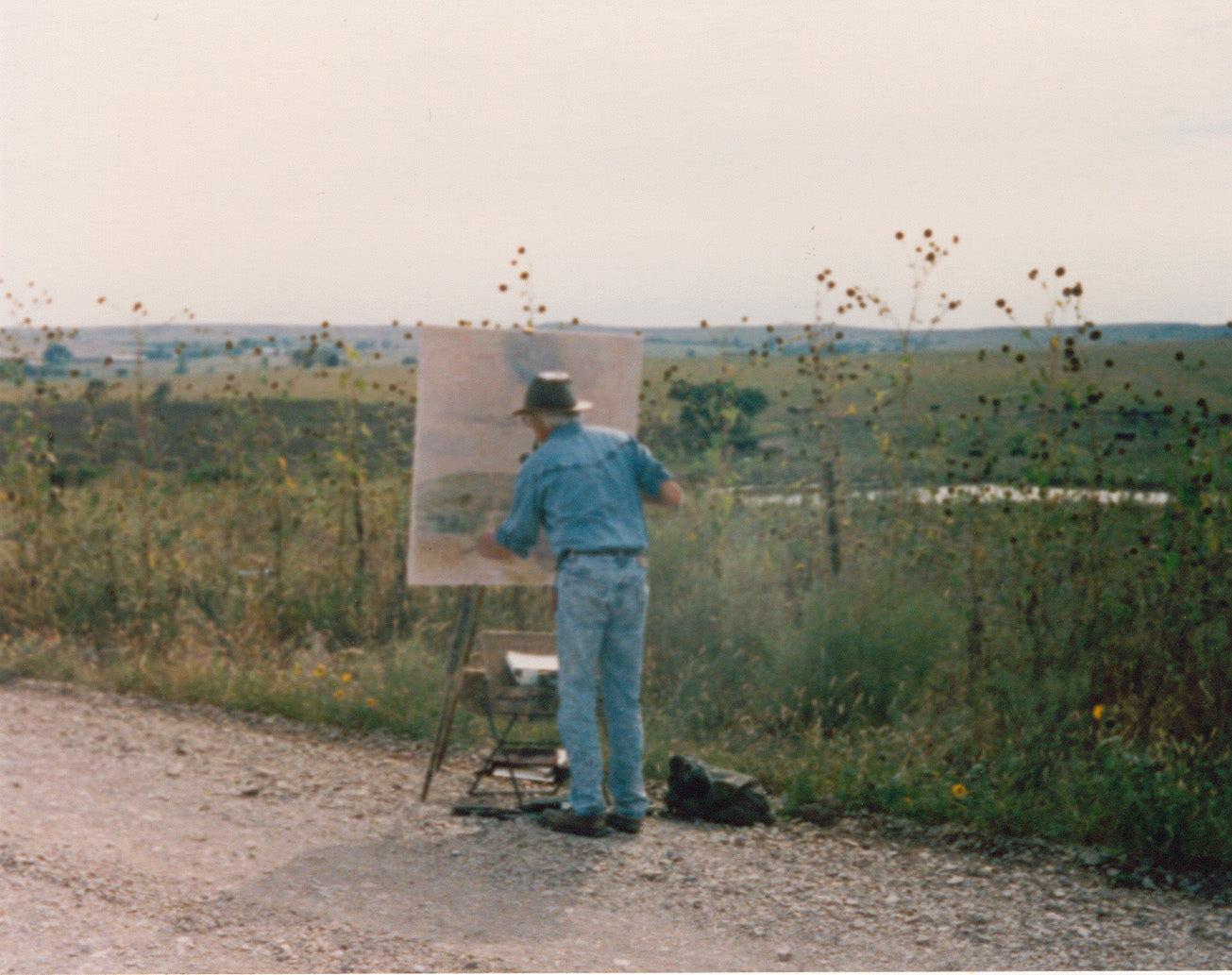 "Until the sixties, most of my paintings were done from places and drawings. Landscapes were usually completed in my studio. Many of the paintings were abstracted patterns taken from nature. Eventually I found that my paintings were becoming contrived and lifeless. Going outside and painting directly, while causing a lot of confusion, opened up a new world of possibilities for me. The visual richness and confrontation with time, place and weather can drive a painter mad. The idea that one can tackle the infinite is presumptuous. For me photography is also vain. My only alternative is total immersion and in the end a trust in a extension of awareness. Yes, I become confused; but, I never fail to sense immensities and I know the quest is endless."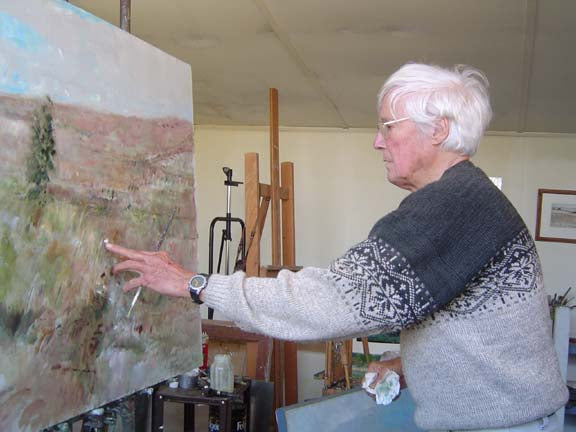 "Watercolor Painting was my first love. It was portable and fresh. Watercolor seemed an ideal medium for spontaneous discovery. I've never completely abandoned watercolors, however in time I found the technique carried me into new situations, I needed to explore more in depth."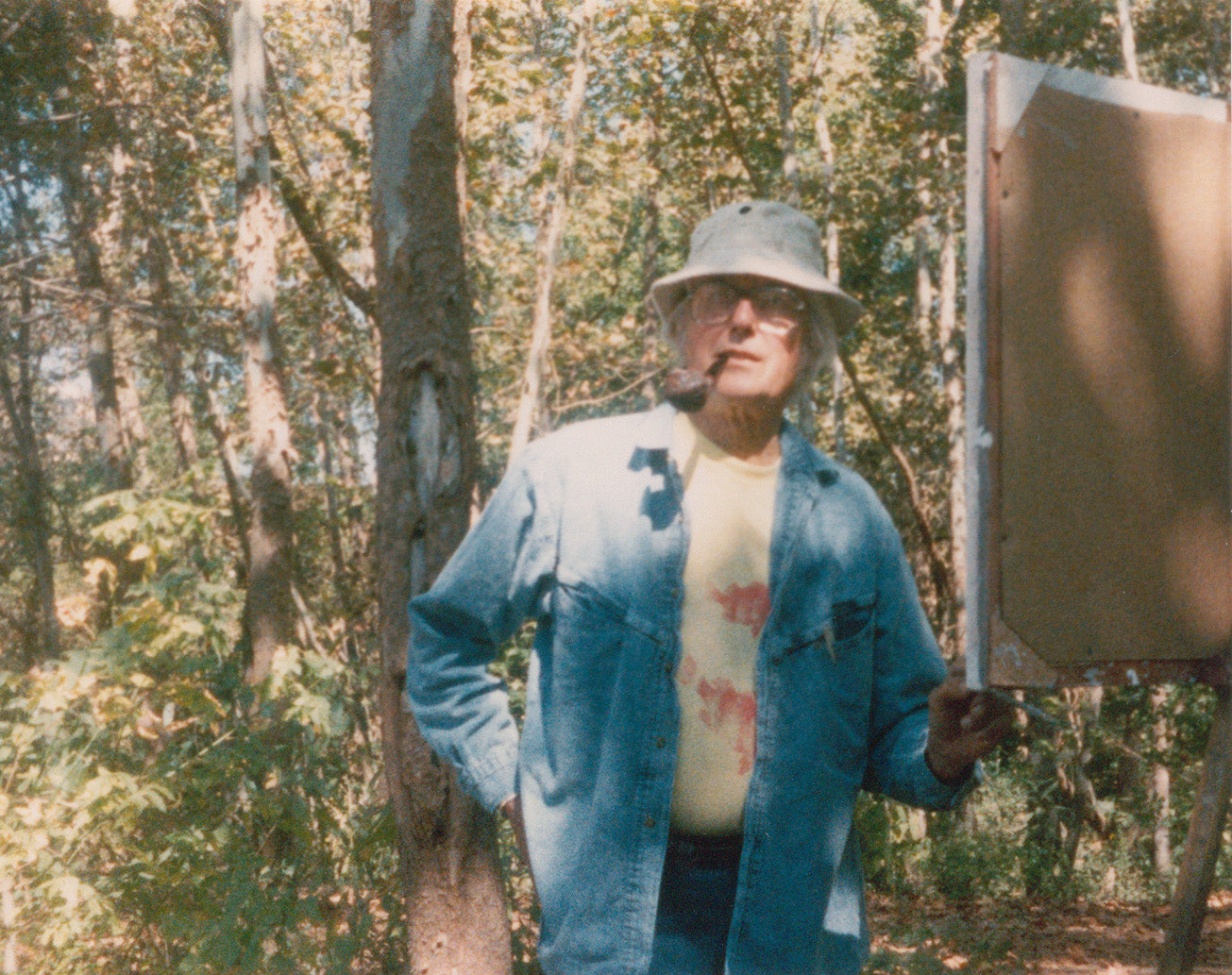 "Lithography has been a welcomed discipline. In the lithography process the image is drawn upon grained limestone, then through a very tedious process the image is transferred onto paper. The stones are heavy, seductive and not very forgiving. Perhaps foolishly I have attempted to take some of these monsters out into the landscape. Learning the medium has been slow but yet challenging."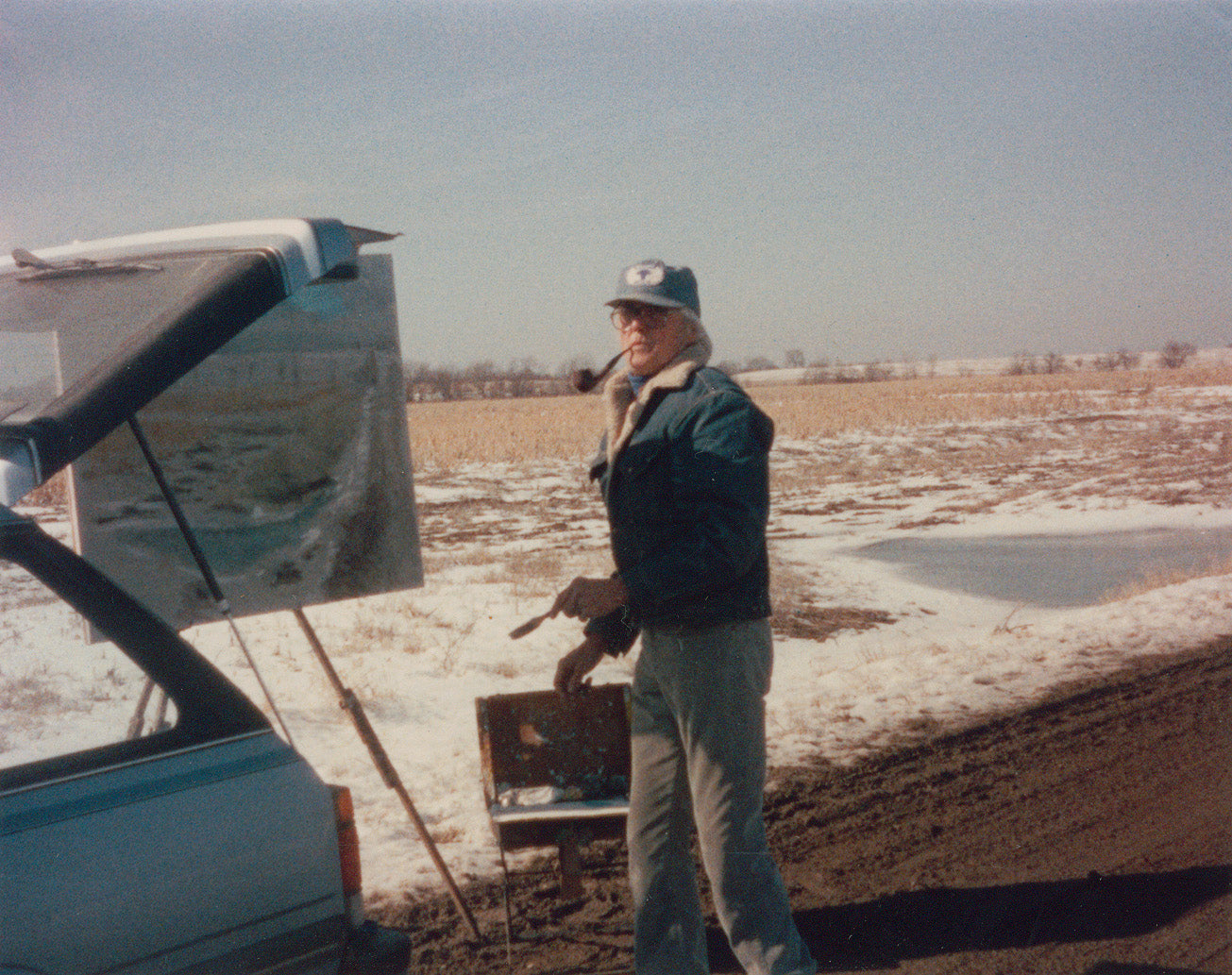 "The Oil on Paper paintings are completed out doors. They are attempts to get in between almost invisible colors and are done within a few hours. The results are an ongoing diary of experience. It is very necessary for me to make senses real and keep up with forever changing surroundings. I use whatever material which is compatible with this mysterious quest."